Since being built in 1909, the Gamble House in Pasadena has served many roles—a family home, a historic landmark, and a Hollywood backdrop. (It stood in for Doc Brown's home laboratory in the 1985 movie Back to the Future.)
But these days, the structure is celebrated as the best surviving example of the Craftsman style, an architectural movement that aimed to promote "architecture as fine art." Originally designed by Greene and Greene as a winter residence for the Gamble family (of Procter and Gamble), the house was donated 50 years ago today to the city of Pasadena and USC.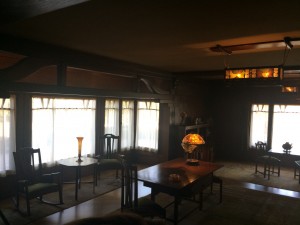 The original decorations and furnishings have all been preserved, so visitors can examine the teak interior, stained glass windows, and hand-woven Bohemian rugs up close. And since 1966, two USC architecture students have lived in the home each year—giving them time to soak up inspiration while ensuring the house survives any gas leaks or California earthquakes.